BarSight Restaurant Management Software
Crafted for the Fast Paced Hospitality Industry
Running A Restaurant or Cafe is not like a typical 9-5 office environment, and we know that. Our software is built to work with the unique needs of your business that the normal, standard retail based scheduling and accounting programs can't handle.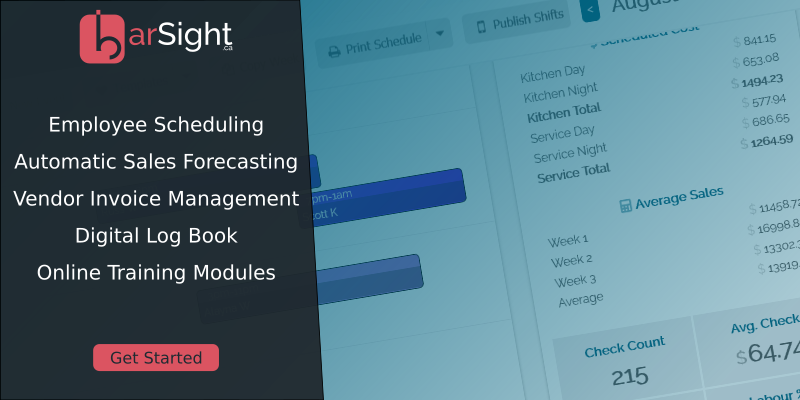 What is Restaurant Management Software?
Typical restaurant management systems and software (called RMS for short) are designed to improve the efficiency of your restaurant or hospitality based business. This typically includes restaurants, bars, cafes, and the growing popularity of breweries and cideries, but can also include many other businesses in the hospitality industry. These RMS systems can adapt to the unique challenges of the hospitality industry, such as scheduling employees throughout the weekend, or shifts extending over night, and being able to assign multiple roles to employees that are cross trained.
Create and Publish Schedules in Minutes
Instead of spending hours dealing with spreadsheets and notes written on coasters, you can create a schedule quickly and efficiently. Our restaurant management system is built with employee scheduling as one of our core features, and is packed with features restaurant owners and managers love.
Free Employee Portal and App
All employees are given free access to be able to log in, view their schedule and make requests.
Completely FREE web-app, takes up no space on mobile phones.
Native app also available for Android and iOs phones.
Employees can request availability changes, time off requests, shift trades, and more.
All requests require approval before they take effect.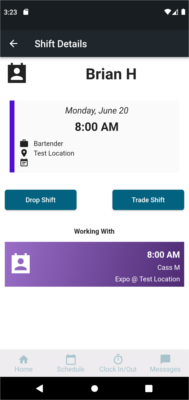 Employee Management That Makes Sense
Just like you, your employees can wear many hats in the restaurant industry. Sometimes your servers need to fill in as bartenders, or your line cooks and be shift leaders. Other scheduling programs may struggle with that, but BarSight Restaurant Management Software has been built for this!
Assign multiple roles to your employees, and schedule them as normal. No more multiple accounts for different roles like other systems.
Prevent accidental daily or weekly overtime with scheduling validation
Assign special access to certain employees (Chefs, Shift Leaders, Office Staff, ... so they can make schedules, approve requests, and more
With BarSight, you can print a daily sign-out sheet for employees to sign in and out, with their break times. Shifts can then be easily posted for payroll at the end of the night, or the morning after. Since BarSight knows who you scheduled to show up, the form is already pre-filled out, so you don't have to re-enter shifts.
Track Expenses on the Fly
Invoices and Petty Cash entries can be submitted from your desktop computer, tablet, or mobile phone. You'll be able to enter them in whenever, where-ever its convenient for you. When your all done, the summary can be submitted to your accountant for easy processing.
Get Organized with Log Book
Forget the old way, of keeping a daily diary (with coffee spilled on it!) in the back office, use the new Log Book provided by BarSight to keep organized. Make as many types of forms as you want:
General Daily Logs
Customer Comments/Complaints
Health and Safety
Inventory Counts
Daily Sales Reports
...whatever you need!
All forms are viewable online, any time. You can also print out a monthly report of all your forms to review.