More Than Just Restaurant Employee Scheduling Software
Are you looking for the best restaurant employee scheduling software for your restaurant, brewery, or winery? BarSight Restaurant Systems provides all the tools you need to manage your restaurant efficiently, keeping your labor costs down, employee accountability high, and accurate payroll reporting. Whether you are looking for a simple restaurant scheduling tool, scheduling for multiple locations, digital shift manager logbook, or all-in-one restaurant management system to reduce labor costs, accurate expense reporting, improve team communication, and create custom built employee training modules, BarSight has the tools to make you more efficient.
Register today for a free trial to discover how BarSight Restaurant Systems will help you simplify your operations, and see how we are more then just scheduling software.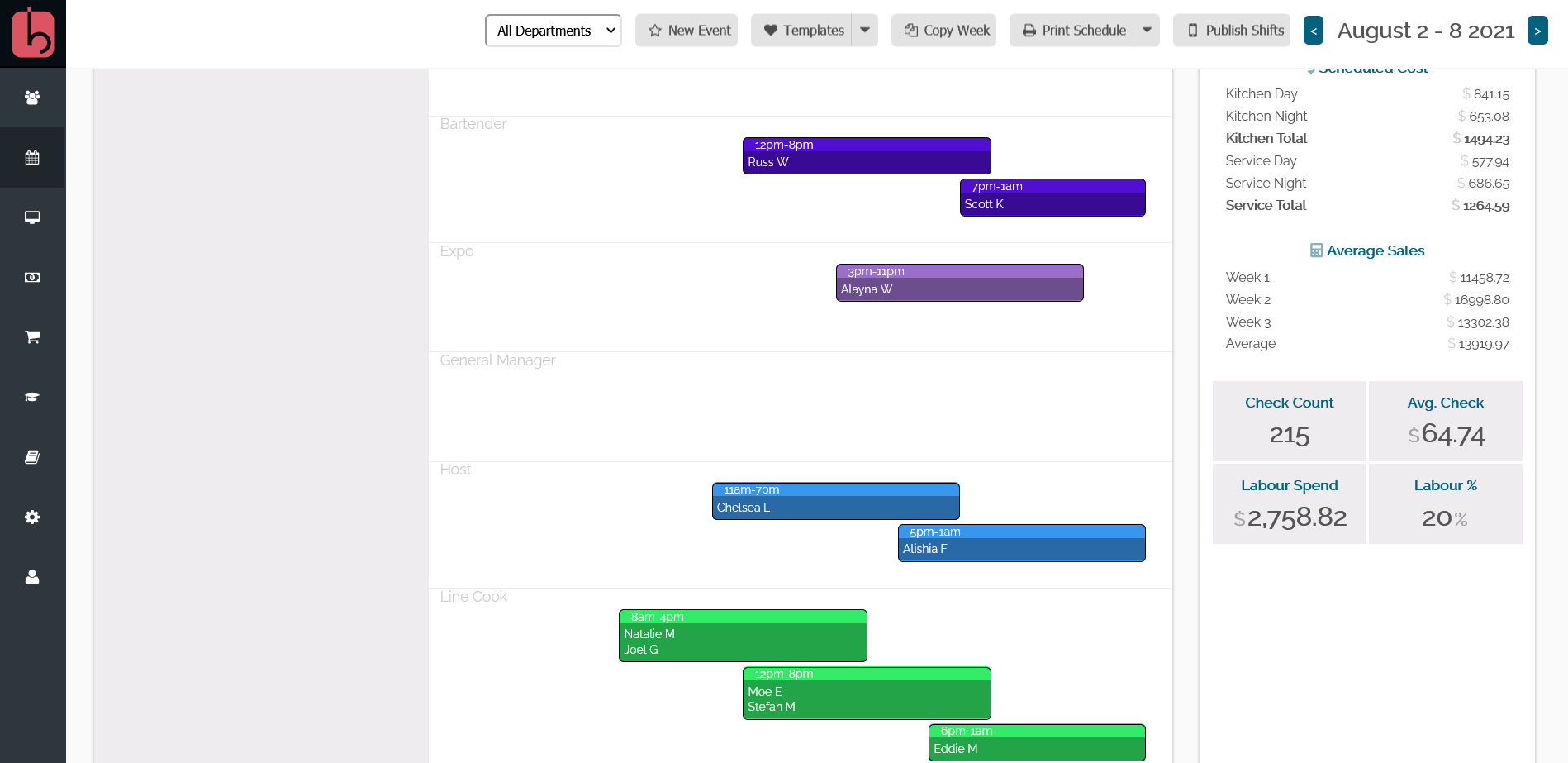 Benefits of Restaurant Scheduling Software
Restaurant scheduling software offers numerous advantages over manual and outdated scheduling methods. Tools such as reusable templates and "copy and paste" schedules can help restaurant managers eliminate numerous tedious issues that plague you with shift management. Restaurant managers can stay informed when an employee wants to make schedule changes (shift swaps) or another worker is unable to come into the restaurant due to availability conflicts. Mobile access is increasingly being implemented as an integral part of scheduling software, and BarSight is available as a free mobile app to your employees. Integrating our scheduling platform with your payroll system allows you to accurately compensate employees for hours of work. Quite simply, It saves you money.
We Start With Our Simple Scheduling Tool
Scheduling in the restaurant industry can be tricky with all sorts of oddities, and that can trip up most of the typical employee scheduling software options on the market. If your restaurant operates on a modified work week, like say Monday-Sunday, or Tuesday-Monday, BarSight can handle that with a click of the mouse. Your labor budget will adjust for the modified work week you select. Other common restaurant scheduling issues that can trip up other scheduling software include daily split shifts, imagine your restaurant goes through a big rush during lunch with a gradual tapering off until the dinner rush hits. BarSight is flexible enough to handle typical restaurant shift scheduling that split up your employees workday. You can even create schedules that have employees in different roles throughout the day (say you have a bartender that is also a shift supervisor).
As your create schedules based on your restaurants operational requirements, you'll be able to quickly see if you have gaps in your staffing. BarSight will alert you if you schedule employees outside of their availability, or assist you with labor compliance by alerting you of weekly overtime. Allowing you to make the corrections before it becomes a crisis and you have to phone staff in at the last minute.
Utilizing Schedule Templates
BarSight has no limit on the number of schedule templates you can create, so you'll be able to save and generate all your different employee work schedules in seconds. BarSight's scheduling templates can be created and saved for each location, you'll never have to reinvent the wheel when management changes at location. All our template features are even available in our free version, with no restrictions.
View & Print Schedules At-A-Glance
We know that some people still prefer to see shift schedules on paper, so with BarSight restaurant scheduling software, you can still print your weekly or monthly schedule to post up at your restaurant. Or if you're currently working on the schedule, you can print out a draft to get a preview of what it will look like so you can make adjustments before the final schedule is published to all your employees.
You'll also be able to assign tasks to each employee, and these tasks show up in the mobile app on the employees' own schedule. Adding tasks/notes to the schedule is a simple way to make sure things don't fall by the wayside.
Automatically Calculate Labor Costs
With BarSight, gone are the days of pulling out the calculator to estimate your daily labor costs for the day. We know that with the dynamic nature of the restaurant industry, your labor budget can change day today. That's why with our online scheduling software, with each shift you create, your estimated daily labor spend will be calculated and displayed based on all employee's hours worked, including overtime.
Don't just start creating schedules blindly and hope your budget balances itself (*zing!*). With the ability to sync up each of your restaurant locations with its POS system (such as Square) you can accurately track and view all daily sales at each location. BarSight uses this data to look at the last few weeks of sales data and come up with an estimated daily sales figure right there on the screen. This will allow you to make smarter business decisions with your labor forecasting and create schedules based on real data, instead of guessing.
Employee Availability and Time off Requests
To create a schedule that works for everyone is a balancing act. Your staff may have school or multiple jobs that affect their availability to work. Without BarSight you'd be struggling to try and remember all the details of the availability of the your staff. All your staff are able to submit changes to their weekly availability which are then either approved or declined by your management team. These employee availability requests also have a spot where staff can suggest the maximum amount of shifts they want to work in week, so you can prevent scheduling them for too many hours and getting an overworked and unhappy employee.
Time off requests are also handled within the web-app, your employees can submit requests from their mobile device that are listed for your managers, awaiting their approval. The time off requests are listed in the order they are submitted, so you'll be able to approve them in a first-come, first-served basis, keeping things fair. To widen the scope of focus for your management team, BarSight will also show the week before and after the requested days off, so you can get a better idea of your restaurants staffing levels for the time period.
Instant Shift Swapping (Shift Trades)
No schedule is ever perfect, and your employees will inevitably want to make changes to your weekly schedule. With BarSight, our restaurant scheduling software makes it possible to approve shift swaps and trades that your employees have applied for. This saves the scheduling manager time, keeps your employees happy, and makes sure you don't end up short on staff needing to call in overtime. Here's how it works:
Your employees can request shift swaps from within the web app by first selecting the shift they want to get rid of.
Next they will choose a shift they would rather work that is currently being held by another employee.
The other employee can either accept or decline the request to swap shifts
Finally, all requests for shift swaps are listed for manager approval with a full preview of what the schedule will look like after.
BarSight even has an additional feature called Shift Dropping, this is when an employee who doesn't want to work one of their upcoming shifts, can request to drop it. That shift is then shown in a list other your other staff members, so they can request to pick it up. The scheduling manager or supervisor will then be able to choose who is awarded to work the shift. Shift drops work the same as shift swapping, as they must be finally approved by a manager or supervisor before the restaurant schedule is updated.
All the features mentioned above are even available on the free version of BarSight Restaurant Systems, no upgrades or extra costs needed.
Integrates with Payroll Software
Schedule management is only one part of the equation, at the end of each day (or the next morning) the supervisor on shift can submit the actual hours worked of each employee, we call this Posting. Maybe you had to call in a server to start their shift early, have some line cooks stay late, or even make a last minute call in for somebody who wasn't even on the schedule. Whatever the case may be, as one of the best restaurant scheduling software on the market, we know that nothing is ever set in stone. Once all the daily hours are posted to BarSight, our payroll reporting features come into play. As every ones method of payroll is different, BarSight has multiple options for restaurant owners to get payroll completed.
Recommended: Instantly integrate with Square to process your payroll with a few simple clicks.
For Canadian Customers: We offer the ability to download a pre-formatted excel spreadsheet of your labor reports to pass along to your accountant/book-keeper so they can import directly into their payroll software.
Available Soon: We are working on an integration with Intuit Quickbooks which should be available shortly. Contact us if you would like to be part of this beta program for special rates.
Unlike some other restaurant scheduling apps that charge users to download the scheduling app, BarSight is free to use as a web-app. Available to both employees and managers by just visiting barsight.ca and clicking 'Add to Home screen'. A web-app functions just like a normal native mobile app, while only requiring a fraction of the disk space.
Our web-app has full access to all the features available on our desktop version. Employees can update their availability, request time off, and access schedules. Restaurant managers are able to simplify their employee management tasks, employee messaging, and provide all the scheduling tools in the palm of your hand!
Special Note: We are working hard to develop a native mobile app to provide to our customers, and rest assured - that will be provided as a free mobile app as well!
Manage Multiple Restaurant Locations
One of the features that makes BarSight one of the best restaurant scheduling software, is the ability to manage employee schedules in multiple locations. Depending on the subscription plan you can have one, 3, or 6 locations. If you need more locations, contact us and we can arrange special pricing based on your needs.
Improve Team Communication With Manager Logbook
An often under-utilized tool is the restaurant manager logbook. BarSight has built a digital version of the 'little black book', and each manager on shift can make logbook entries. Being able to add information on team members who were sick, let employees go early, incidents with guests, and even equipment maintenance issues. The digital manager logbook becomes one of your best communication tools once setup. Each entry is sorted by day, and searchable so you can look for patterns and history. Once you've registered for your free trial, you can download a bunch of ready made logbook templates to start playing around with. All logbook entries are able to be created and edited from either your desktop or mobile device.
Record Vendor Invoices and Track Petty Cash Expenses
How do you keep track of the invoices from your vendors? It's not unusual to find restaurant owners who don't bother to organize / or have a monster of a spreadsheet. BarSight comes with the feature to create vendor accounts and record invoices from the suppliers. If you needed an employee to quickly dart out and grab some limes, you can even record that down in the Petty Cash tab. On a weekly or monthly basis, you can export the expense report from BarSight to pass along to your accountant or book-keeper.
That's just the tip of the iceberg, we've got employee training / on-boarding, and digital menu boards, and employee document management. BarSight is more then just a restaurant scheduling app.
We've made it easy and efficient for you to manage your employees, restaurant expenses, training, and process payroll. BarSight will save you time by managing all these resources in one dashboard. By using our scheduling app on your phone, computer or tablet - we provide a solution to help make work easier by hopefully reducing staff "no-shows". Special features for the restaurant industry, like Shift Dropping makes team management a much smoother process. Whatever your foodservice business needs, BarSight has been specifically built from the ground up to be one of the best restaurant scheduling software apps out there.