How to Train Restaurant Staff to Increase Profits
Employee training is the best way to increase sales, provide consistent customer experiences, and keep your staff happy and informed on all policies and procedures.
Advantages of Training Restaurant Employees
One of the most important things you can do for your business is provide restaurant employee training. When your restaurant employees understand their role and how they fit into the company's goals, they're more likely to be able to deliver a great experience for customers. This can help increase sales by making sure that everyone on staff understands what makes your restaurant unique, why customers should come in again, and how they can help make each visit perfect.
It's also important to make sure that all restaurant employees are well-informed about any policies or procedures that affect them—whether it's something as simple as when they get paid or something bigger like a new menu item or a change in hours of operation during holidays. When employees aren't clued in on these things, it can lead to confusion and frustration—and ultimately make them feel like they're not being listened to or valued by their employer.
As an owner or manager in your restaurant, you should also have regular meetings with your employees so that they know what is expected from them, as well as what they're expected to deliver on each day of service. Not only will this make sure that all staff are aware of what is expected but it will keep your wait staff on their best behaviour so that customers feel confident coming in and wanting to come back for more.
A great way to set clear expectations of service is through use of staff training videos. Not only will these be sure to teach your staff about policy changes, guidelines, and other things that might arise during normal times of service, and how to handle certain situations.
Sign Up For a Free Trial
Get started with your own restaurant employee training platform with BarSight. Register for an account and get 30 days free.
Keep labor costs down with a Restaurant Training Program
Training your restaurant staff helps ensure that every employee knows exactly what their role is in making your restaurant run smoothly—and that means happier employees who stick around longer! As a restaurant industry specialist, we know that on-boarding new hires is expensive and time consuming for you and your team. Employee retention is the easiest way for you, as a restaurant owner, to help keep costs down. Studies have shown that the average cost of replacing an hourly employee is $1500.
Standardizing Customer Service to Keep Consistent
A thorough, hands-on training will not only equip them with outstanding knowledge about different tasks in different areas of service preparation, but it'll also equip your employees with outstanding customer service skills, which means happier customers and better consistent service. One of the biggest hits to a restaurants success, is when the customer never knows what kind of service, or quality of food they will be getting. This uncertainty can prevent them from coming back, or booking a big party at your restaurant. Repeat customers are more then likely 60% of your revenue, and if your staff are scaring customers away, that's money down the drain.
By including a comprehensive training program for your whole restaurant staff, you can control how the guests are greeted, the way the menu options are presented to the guests, and even get your kitchen staff trained on the correct ways to serve up each dish.
Getting Started with a Formal Restaurant Training Program
Let's face it, its not 1993 anymore, and a stack of papers outlining the dress code and where the mop used to be is not helpful. If you don't currently have a training plan, or haven't updated it in a while, the first step is to think of ideas and categories of what you want your staff to know. If you need some training examples, we've already thought up a couple for you!
To get those creative juices flowing, the best thing is to open up a fresh Word document and just start typing. Worry about pictures and formatting later - just get those words onto 'digital paper'.
Depending on the type of training manual you are putting together, you might decide to include a video, or take some pictures. Make some notes on what type of media you want to include into your training plans so you can revisit them later when you have the whole module figured out. It makes it much easier to dedicate a single day or a few hours to filming/pictures, rather then jumping back and forth as you try and piece it all together.
Start Creating Your Online Training Manuals with BarSight
With the rough draft and pictures/videos you want to include all done, its time to upload your work into BarSight. Our online training platform has been built to make training your restaurant employees easy and fast.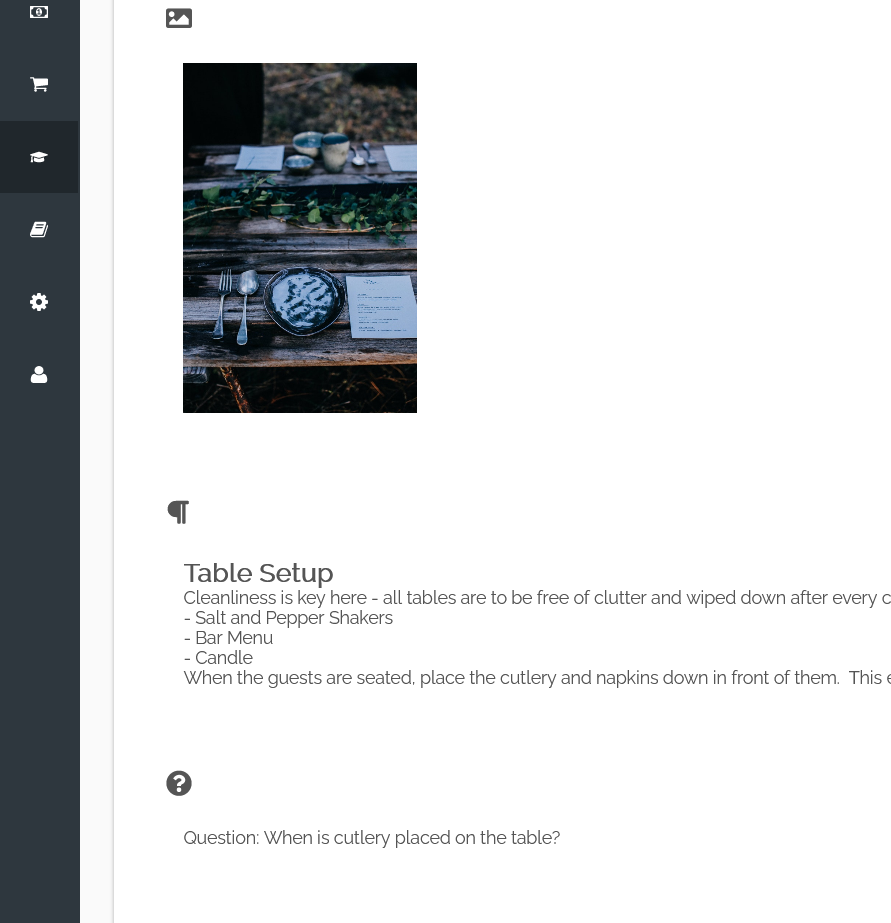 Using our simple drag and drop online training module creator, you can insert rich-text paragraphs, images, youtube video links, and even sprinkle in some pop quizzes for your restaurant staff to complete.
Assign New Employees and Experienced Employees
Everyone on your staff list should complete these training programs you've created. Making sure every restaurant staff member is trained on basics, fills any possible knowledge gaps you may have, and makes it easier to continue to level up your employee training. With BarSight, you or your restaurant managers are able to assign these training modules to the entire staff, or specific roles/employees if you've created modules that only pertain to them.
For instance, your dress code policy and employee handbook modules should be assigned to everyone, but a good staff training program will include specific modules for the different roles you have in your restaurant. This keeps the training relevant for your staff, increases knowledge retention, and prevents them from getting information overload.
Monitor Your Restaurants' Progress
Keep on top of the results of your restaurant employees as they complete the training process. Encourage those who are failing to complete the modules in adequate time, on how it is important for the restaurant that all the employees complete their staff training so the level of service can be consistent.
The hospitality industry is always changing and evolving, it's important to keep revisiting your training plans and making sure to stay on top of any new policies or procedures that your staff will need to know. Ongoing training for your restaurant employees will keep them engaged. You can even create modules to promote cross training within your restaurant.