Feature Friday: Automatic Lot Selection for Brewery Packaging
Welcome to our weekly blog series, Feature Friday, where we showcase certain features of our software. Each week, we dive into a specific aspect of our software, and show you how it works as well as how to make the most of it. From time-saving shortcuts to innovative tools, Feature Friday will keep you in the know and help you make the most out of our software.
Packaging Products without Lot Tracking
Not everything in your brewery needs to be tracked down so meticulously, so we made an option in your inventory to allow BarSight to automatically select the oldest item from your inventory when creating packaging groups. Helping you speed up the data entry process and focus on the details that matter.
With Lot Tracking Enabled
As you'll see in the video below, by default Lot Tracking is enabled, so when we go to create a packaging group of 16 oz Cans, BarSight wants us to select the lot numbers from inventory that we are using for this newly packaged product. That may be awesome for some breweries that want to track EVERYTHING, but for some, you might not want to define when you got that batch of plastic can carriers.
How to Disable Lot Tracking
Go back to your inventory and select the items you want to disable lot tracking for (if you are following along in the video - I errorously clicked 6 pk carriers .... whoops!). Uncheck the box for Enable Lot Tracking and click Save.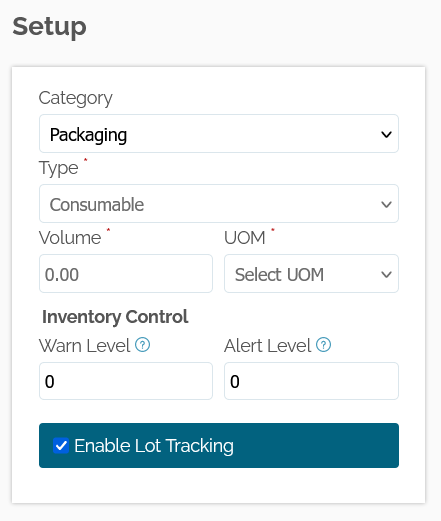 Now when you go back to create the packaging group, BarSight will automatically select any available items from your inventory to make the group, starting from the oldest to the newest items.
Quick Note
Enabling/Disabling this feature will only apply to newly created packages, if your package group is already created you will have to delete and re-add it
Selling Your Newly Created Packaged Products
Just for fun, we continue on in the video to showcase how to create an order for your newly packaged product. An order is created for our customer, April St Pub, and we will be taking 24 x 4pks out of inventory.