4 Best Restaurant Vendor Management Software
Choosing A Way To Manage Your Restaurant Expenses
While there are a few restaurant inventory management apps out in the world, few do the simple job of keeping track of your general expenses. Whats the best way to record invoices from your vendors, service suppliers such as your internet, and building or equipment maintenance bills? How do restaurants keep track of expenses? Let's break down our top 4 choices for restaurant expense and vendor management.
First Up: BarSight Restaurant Systems
Without tooting our own horn too much, lets dive into the "coles notes" on what BarSight offers for restaurant expense and vendor management. Built to offer restaurants an easy way to enter in 2 different types of expense streams, invoices and petty cash entries. Invoices are where your staff would enter vouchers or bills from your food and beverage suppliers, equipment service calls, and even your buildings monthly bills for internet, cable, and alarm services. While petty cash is for those quick grocery store runs for when you run out of limes (... Jerry!).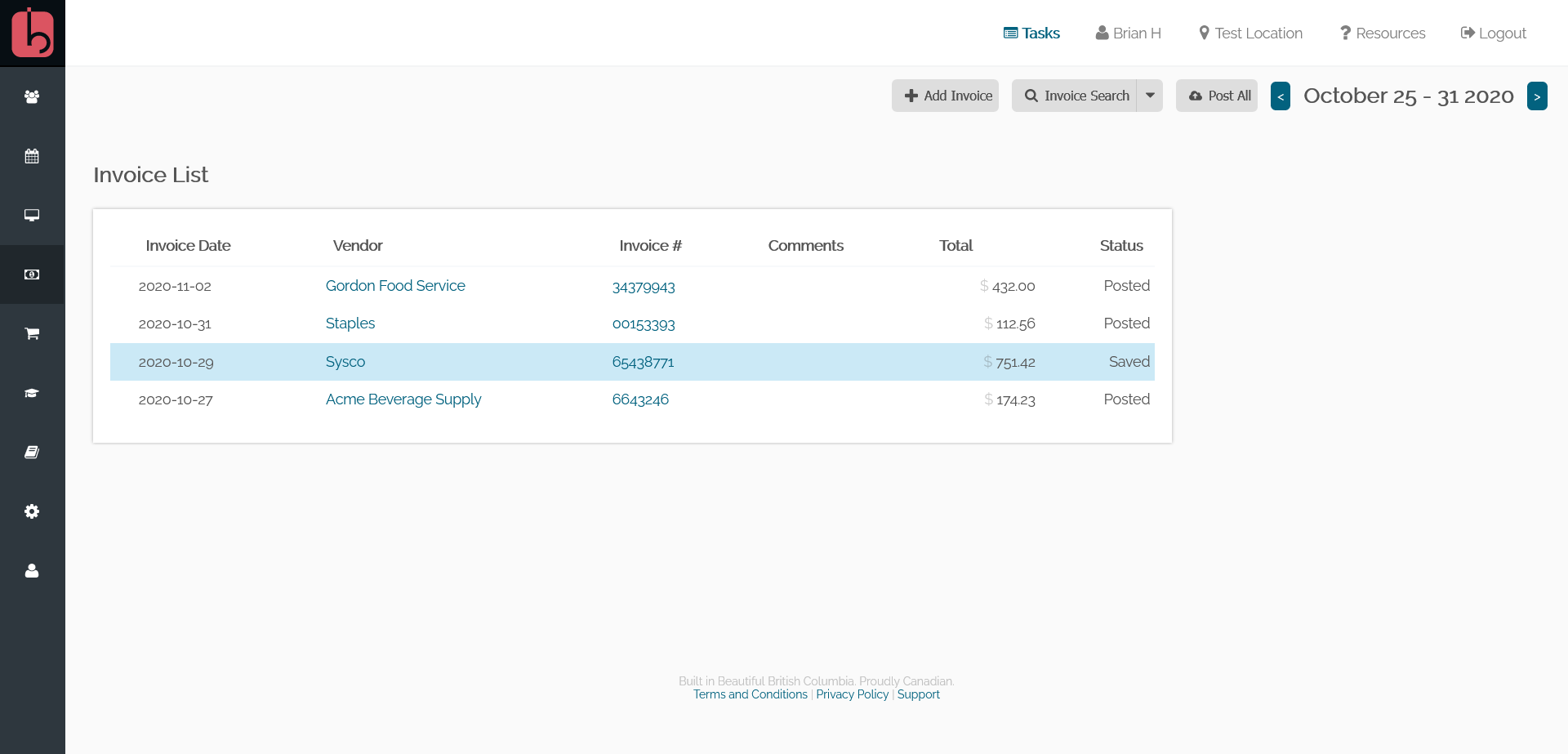 | | |
| --- | --- |
| Pros | Cons |
| Built for the Restaurant and Hospitality Industry | Manual data entry |
| Entries are locked and can only be edited by a manager or the same employee | Doesn't sync with your bank |
| Expenses automatically calculate with your labor costs, for quick reporting | |
| Exports into an accountant-friendly excel spreadsheet | |
| Allow or restrict access to as many employees as you need | |
Second Choice: Quickbooks
A long standing champion of small business accounting, for good reason. Quickbooks offers a complete in-depth accounts payable process to keep your restaurants finances in order. Many top restaurant management blogs have recommended Quickbooks for years as it has been a powerhouse in business accounting. Although, we find the shear amount of options and configurations of Quickbooks is a bit daunting, especially if you don't have a degree or background in accounting.
| | |
| --- | --- |
| Pros | Cons |
| Tons of options for entering invoices and data | ...tons of options to mess things up |
| Can sync with your bank account | Limited use, only one user, that usually means you at your desk |
| Generates standard and specialized reports | Not focused for the restaurant industry |
A more cloud based solution then Quickbooks, FreshBooks has been around for a few years. It offers a robust accounting package, that is a bit easier to setup and manage then others on the market.
| | |
| --- | --- |
| Pros | Cons |
| Easy to use interface | Doesn't integrate with restaurant software |
| Desktop and mobile phone access | Additional team members cost $10/month per member |
| Basic features are available on cheapest plan | |
Last Choice: Plain ol' Excel
You could always do it manually, and just create an excel spreadsheet and start entering in your expenses row by row. It gets the job done, but with literally no safe-guards or reporting features, you would be doing a disservice to yourself by trying to saving a few bucks. We've even heard of excel spreadsheets getting corrupted, then what would you do with no backups! That doesn't sound like a good time if you ask me.
Register For a Free Trial
BarSight Restaurant Systems combines all the tools you need to run your restaurant, brewery, or cafe into one package. More then just Restaurant vendor management, it includes invoice and petty cash reporting, employee scheduling and payroll, and training. Register for a free trial and see why we are gaining popularity with small restaurants in Canada like yourself.