Free Employee Scheduling Software for Restaurants
The best restaurants use scheduling programs to simplify employee scheduling, improve team communication, and streamline their operations. BarSight built our employee scheduling program to help restaurant owners, like yourself, save time and money.
What to look for in free employee scheduling software?
When choosing scheduling software, you don't want to invest a bunch of time into a piece of software that won't end up working for you and your staff, constantly switching scheduling software can be frustrating and confusing for your staff (i.e. your dishwasher might still be using 7shifts when you've switched over to wheniwork, that'll be an awkward conversion when he realizes he no-showed for a shift.).
So you'll want to make sure you pick the right restaurant scheduling software from the start.
Let's do up a quick checklist!
Free Mobile App
This one is a big one, but believe it or not, there are scheduling software companies out there that actually charge your employees to download and use the app to check their schedule. We don't think that's very cricket, so our app is available for free to all your restaurant employees to download.
Add Multiple Roles for Employees
We at BarSight know your employees can wear multiple hats, and cross-training your employees can be highly beneficial to your restaurant operations. So our software is easily able to handle scheduling employees that have multiple roles, even on the same day. Your staff won't need extra logins or have to switch profiles to see these changes, as it's all connected to their one and only account.
Flexible Work Weeks
Does your restaurant run on a normal Monday to Friday 9 to 5 schedule? ... No? Then why would you expect normal off the shelf employee scheduling software to handle that. Our software was built for the restaurant industry, we know about the finer details that generic scheduling systems overlook.
You can set up your schedule to start at any time you want (6 am, 8:30 am, 10 am ...you get the picture), have your week start on any day of the week, and schedule your employees to work past midnight, without that affecting your daily labor costs and hours for the next day. That way your numbers aren't skewed on Sunday morning, from the Saturday night schedule.

Splitting Up Day Parts
Most restaurants run with a Day and Night accounting system, the day manager knows their budget for the morning can run a bit high (food prep and cleaning), and that's why you'll have your night manager focus on your night-time productivity numbers. BarSight lets you set your accounting scheduling times as you see fit, so you can accurately target and meet your restaurants' costs and margins.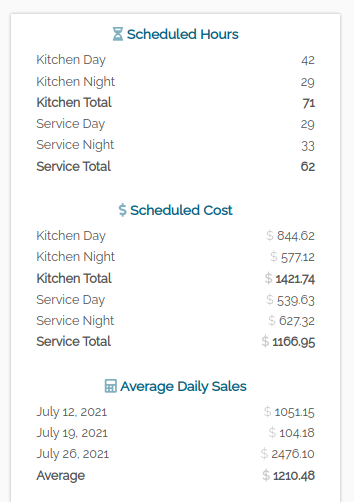 As you add or remove staff members from the schedule, our system automatically will calculate labor costs. Including overtime penalties for some states/provinces.
POS Integration With Scheduling
Not only with BarSight tell you how much you're spending on labor costs, but if you activate our POS integration module (currently compatible with Square or Clover systems) - you'll be able to quickly see how much money your restaurant is making on average. This way you don't have to try and do the math in your head, it will be laid out plain and simple, and by each day.
The labor and sales totals will automatically adjust as you schedule employees.
Adapt to Your Employees' Availability Changes
Your employees will easily be able to send in time off requests, and update their availability with BarSight (either on their computer, tablet, or mobile device). The requests then come to you, or your manager/supervisor with the correct access level, at which point the requests can either be approved or declined.
We've even built the daily employee availability form to be flexible enough for them to request either full day to work, day shift only, night shift only, or no work at all.
When you're building the schedule, if you select an employee that can't work, their shift will glow orange, alerting you that there is a problem. You can then take action by selecting another employee who is available to work - or leave the schedule as is and have a conversation with the employee.
Shift Swapping Made Easy
Even the best-made schedules will fall victim to somebody needing a shift trade. BarSight can handle your employees' shift swapping (trade shifts), and pickups. Typically, both employees will need to agree on the shift trade, and then it will have to be approved by the manager/supervisor in order to become official.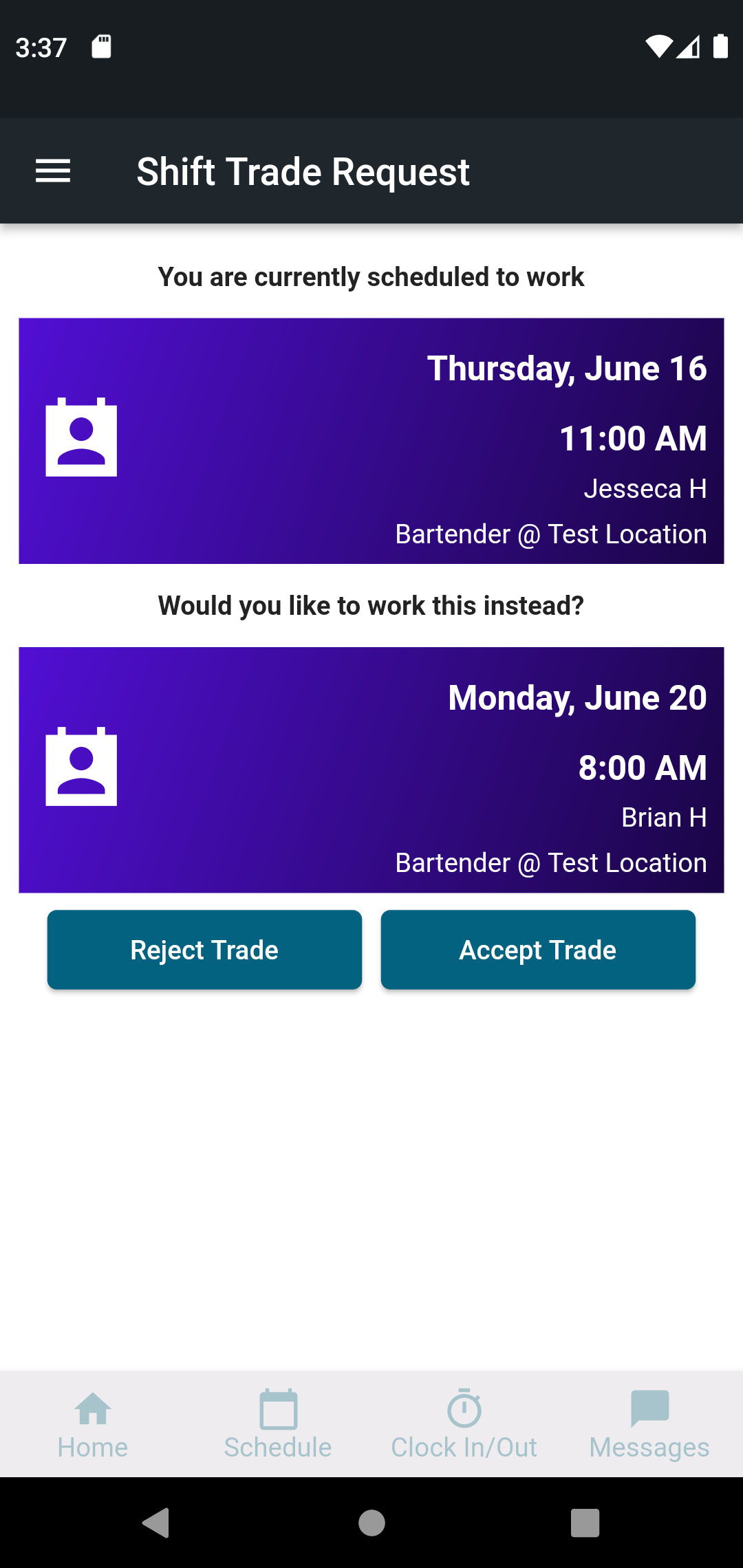 Export the Total Hours Worked
What good is a scheduling software, if you have to double the data entry to your payroll software? Our employee scheduling software will help save you money by exporting a nicely formatted excel file for you to import into your payroll systems, or pass to your accountant. The process is simple, at the end of each day (or the next morning), designate a team member to post the hours. They'll read from the daily or weekly signout sheet, and confirm the total hours worked match up with the total hours scheduled. If there were any changes, such as a server staying late, or a no-show, they can save the changes on BarSight. When it comes time to process payroll, you'll have an excel sheet ready to go.
Build Your Own Schedule Templates
If your restaurant or brewery has a fluctuating schedule, such as a summer rush and winter lull, you can build and save templates to help you stay within your budget and stop trying to reinvent the wheel every 6 months. Create a schedule you are happy with, and click on Save Template to name it something that makes sense. When you need to Recall your template in a few months, it will be there ready to go with just a few clicks.
Along with templates, you can even quickly just create recurring shifts by clicking on the Copy Week button at the top of the scheduling page, to roll the currently view schedule over to the next few weeks.
Add Notes to Your Employees Shifts
If you want your opening server to do some extra side work (oh we know how we all love side work), you can easily add notes to your shifts. These are very useful to assign tasks or even designating them to work in a particular section.
Get Even More with Our Paid Plans
Our free restaurant employee scheduling software is even more powerful if you upgrade to one of our paid plans. You'll get to have more active employees, our accounts payable module for tracking expenses, our training module to help with employee onboarding, and even our very popular manager log book.
The free version of our restaurant scheduling software is still a very powerful and popular choice for smaller restaurants. We aim to make BarSight one of the best and most affordable restaurant scheduling apps available on the market. It's built for the restaurant industry, by those of us who have worked in the industry.