Restaurant Expense Tracking: How to Track Expenses the Smart Way?
BarSight Restaurant Systems help owners of restaurants to keep track of the expenses.
Simplified way of Managing Expenses
When you run restaurants, your expenses can easily become an issue. Trying to navigate through piles of vendor invoices, separating food costs from labor costs on your balance sheet, and getting all that compiled on a weekly basis for your accountant. It can be difficult to keep up to date with all the other duties of running your restaurant. Let BarSight Restaurant Systems help you keep up with the expenses of your business.
How do restaurants keep track of expenses?
There is a couple ways to record your restaurants cash flow, such as:
An Excel spreadsheet, but that can be quite quirky to setup and unless you set it up in the cloud, will rely on you always being at the same computer.
Using Freshbooks, with an easy to use interface, its not a bad option if you don't mind paying extra per single team member.
Quickbooks defiantly can get the job done, if you know exactly what your doing. They cater to all industries and workplaces, so getting Quickbooks tuned to your needs can be quite a task since its not built only for the restaurant industry.
BarSight Restaurant Systems Accounts Payable Reporting, is a purpose built platform for quickly recording expenses and generating a nicely formatted excel spreadsheet. We've built this for the restaurant industry in mind, so its tailored to your needs.
What it comes down to is your comfort level with technology and if you want to spend time each week trying to compile all the data or have it done for you automatically.
What type of expenses should I be tracking for my restaurant?
Simple answer, is all of them! To get a better idea on the net profit margin your restaurant is running at, you need to know your Gross Sales and all of your Operating Expenses. Your Operating Expenses can be broken down into 3 simple categories:
Labor Cost
This is easy if you use BarSight to handle your restaurant staff scheduling, as your labor report is generated right in front of your eyes. BarSight can even show your estimated labor cost as you build your schedule so you'll always know how much your spending on labor. Even most POS systems have punchcards or timeclocks built in, so you can track your employees labor cost that way.
Food Cost
This simply comes down to your lettuce, tomatoes, soft drink mixes, etc. All your perishables and non-perishables should be at least separated into one big category for food costs. You can add more GL Accounts (ie. sub-categories) if you want to be able to track food cost items a bit more diligently.
Business Cost
Everything else can be caught in your Business Cost category, building rent, utilities, taxes, strata fees, licensing, maintenance calls - oh dear the list goes on and on.
Now you may be thinking, this is a lot to keep track of! And your absolutely right, it can be - but that's why you have BarSight.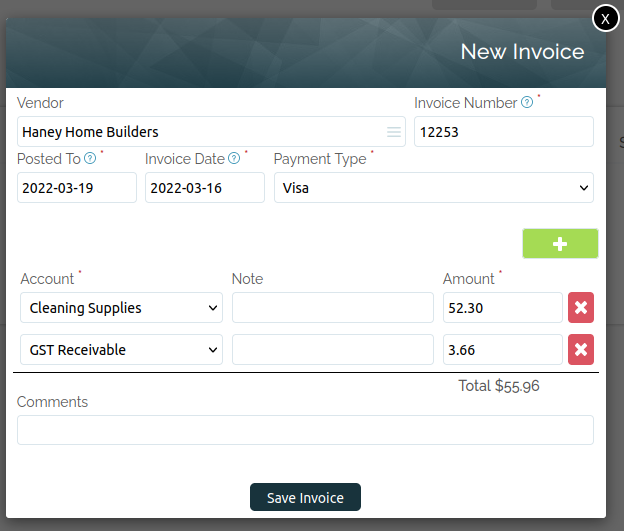 Entering vendor invoices is easy with our expense tracking module. All your typical restaurant expenses are split up into many expense categories (set by you), and whoever you give the correct access permissions to, is able to create invoices with only those predefined categories. When the time comes to generate a report, you won't have to spend any time trying to match up one-off oddball expense categories, and the report will seamlessly integrate into your accounting software.
Your employees will spend less time entering in invoices, and with the ability to generate reports on the fly, you'll able to catch any mistakes they may make.
How does tracking expenses with BarSight help my restaurant?
Having your staff add invoices and petty cash entries into our Accounts Payable module, you can be sure they are applied to the correct GL account (we will cover all the typical expense categories on a later article).
When it comes time to do your monthly or weekly reporting, all you need to do is run a couple of reports and export them to excel - then your accountant can take it from there!
Armed with better information on where you are spending money (and how much), you can make better decisions on where to cut cost or where to invest in new equipment.
For example, if you see that your business cost category for last month was quite high, you can go in and have a look at what invoices were entered. Maybe there was an unusually high hydro bill, or a higher than normal maintenance call, or your labor cost went through the roof - whatever it is, you'll be able to see it in the reports generated from BarSight. As a restaurant owner, keeping track of your restaurant expenses is one of the key components of your job. If you don't have a foolproof system in place of monitoring your cash flow, you could be loosing money without knowing it.
What kind of reports do restaurant owners need?
There is more to it then just bottom line profits, as with all small businesses, there are a ton of factors that determine how profitable your restaurant is. Most of the reports generated from BarSight will import quickly into your accounting system of choice which can save time. It is also handy to be able to quickly look up your historical spending on certain expense categories or from vendors.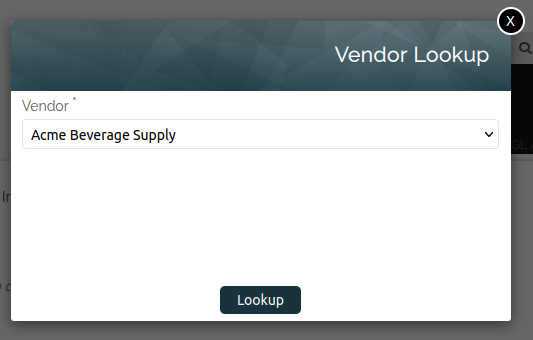 With BarSight, you'll be able to instantly drill-down into our reports. Choose by vendor, expense category, or even lookup by invoice/voucher number. You'll be able to quickly get the answer your looking for without having to rummage around in a box of papers.